SunRunner Victron 50MPPT/4 Core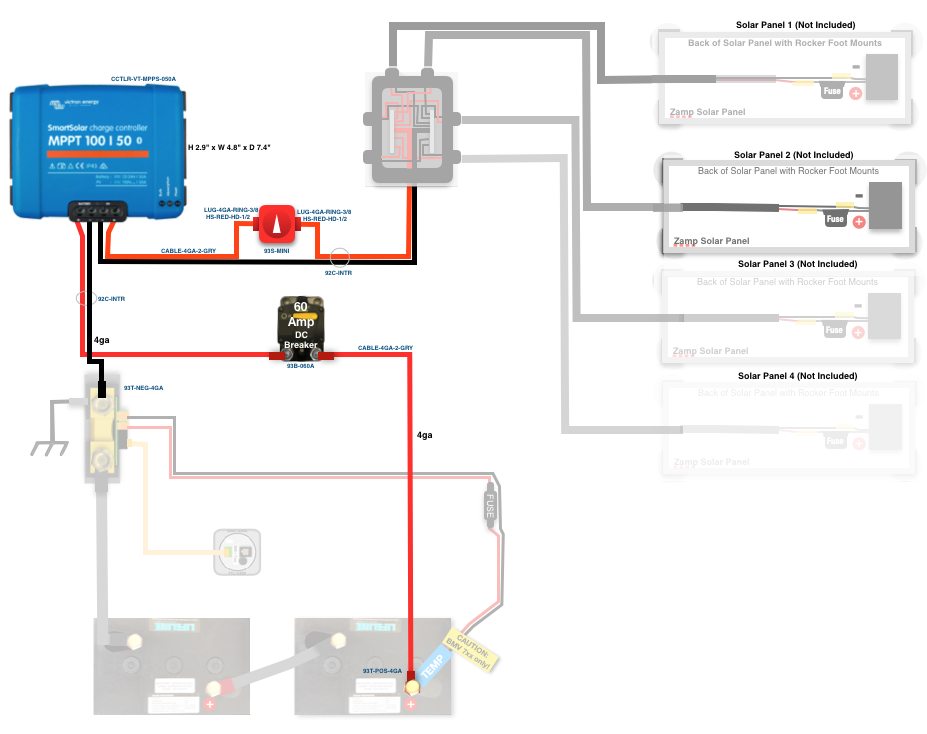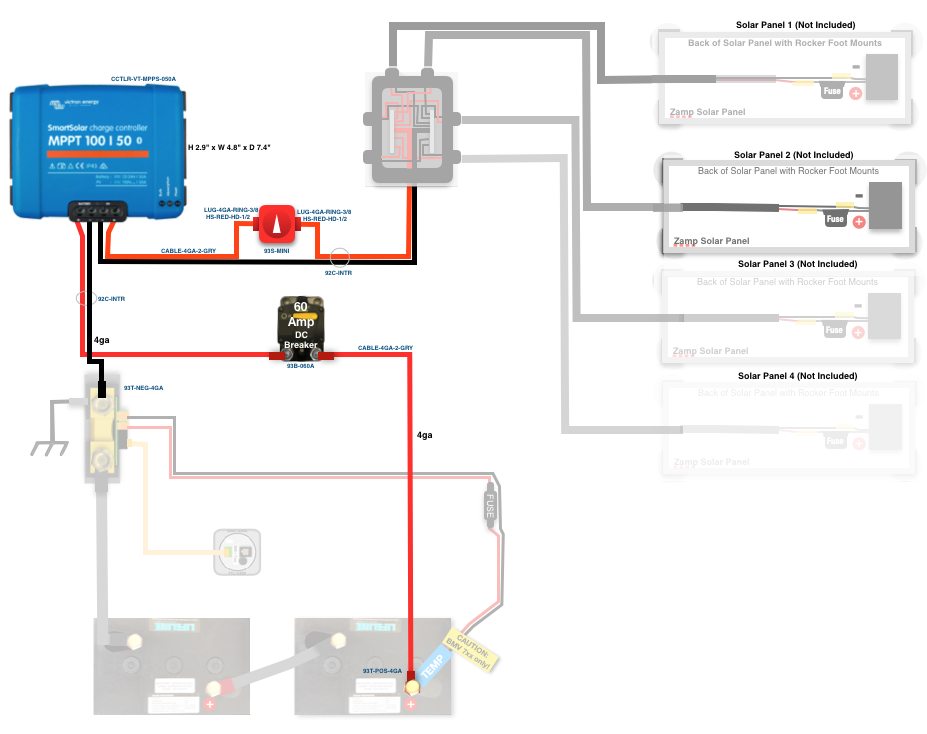 SunRunner Victron 50MPPT/4 Core
This kit is built around a Victron SmartSolar MPPT 100|50 charge controller and comes with built-in Bluetooth monitoring that can communicate with a smart phone. It is also compatible with several optional add-on monitoring kits. It can regulate up to 700 watts of solar panels in optimal conditions (more in higher latitudes) and is compatible with our roof mounted combiner boxes. Thick 4 gauge wire reduces lines losses for optimum efficiency. This system core is the preferred choice for our lithium battery systems, but it is also fully compatible with lead-acid battery banks.
This is the high power end of our Victron BlueSolar MPPT based System Core offerings. To complete a system based on this Core, study this System Overview. You will see that you need to add a Combiner Box and Solar Panel Kits. You may also choose to add Tilt Bars for increased output in Winter and a tube or two of Dicor sealant to seal the roof where the mounting feet and roof combiner box are placed.
Select a system monitor and choose from the optional add-ons list below to build your complete system
What you get:
1x CCTLR-VT-MPPS-050A SCC110050210 SmartSolar MPPT 100/50 (50A)
30' CABLE-4GA-2-GRY Duplex-4/2
1x 92C-INTR Interior Wire Harness Acc. Kit
1x 93B-060A 60 Amp DC Brkr. w/Screws
1x 93T-POS-4GA 4ga Brkr Pos Term Kit
1x 93T-NEG-4GA 4ga Negative Terminal Kit
1x 93S-MINI Switch-Mini On/Off w/Screws
2x LUG-4GA-RING-3/8 4 ga. Lug-3/8" Ring
3" HS-RED-HD-1/2 Heat Shrink 1/2" Red
Wiring Diagrams:
System Overview
Fitting 4ga Cable in Controller Terminals
Select monitoring options:
Victron MPPT Control Kit
This kit provides a remote monitor with programming capability for Victron MPPT charge controllers.
Victron Color Control Monitor Kit
The Color Control GX provides intuitive control and monitoring for all products connected to it. The list of Victron products that can be connected is endless: Inverters, Multis, Quattros, MPPT 150/70, BMV-600 series, BMV-700 series, Skylla-i, Lynx Ion and even more. This kit is not a battery monitor, but it does talk to battery monitors.
VE.Direct Bluetooth Smart dongle
Using the VE.Direct to Bluetooth Smart dongle you can display your BMV, Phoenix Inverter or MPPT Controll information on iOS and Android devices, using the VictronConnect app. View information wirelessly such as battery status and solar panel power, plus other useful data.
Victron BMV-712 Battery Monitor Kit
Battery monitor kit with programmable relay. Measures voltage, current, capacity, and temperature. Can work with any battery type. Built-in Bluetooth. Compatible with the Color Control Monitor.

Monitor Dimensions: H 1.3" x W 2.4" x D 2.4"
Shunt Dimensions: H 1.4" x W 4.8" x D 1.6"
Cable Length: 10m
You may also be interested in:
Choose a combiner box:
Choose appropriate tilt bar sets:
Add sealant:
(allow 1/3 tube per panel or Roof C-Box)
AM Solar Part Number: 30s-VT-MPP-50A or 30i-VT-MPP-50A